Despite proclamations of its impending irrelevance in places like the New York Press, the 46th New York Film Festival has seemed more vital than ever this fall. Maybe it has to do not so much with this year's selection which, for the most part, has been terrific, but with the dearth of valuable cinema being pushed out by the American studios and their dwindling indiewood counterparts – their simply isn't much else to see. Since the fall movie award season horse race began in Toronto last month, much of the new work I've seen outside the auspices of the NYFF, be it tired genre work (the fun but formulaic button pusher
Lakeview Terrace
, the stolid B western
Appaloosa
, the embarrassingly superficial DeNiro/Pacino police procedural
Righteous Kill
, Spike Lee's downright corny, score settling WWII drama
Miracle at St. Anna
and Gary Fleder's by the numbers football drama
The Express
), pop throwaways (Diane English's just dreadful
The Women
, Pete Sollett's promising but undercooked
Nick and Nora's Infinite Playlist
) period pieces (the solid but never overwhelmingly revelatory
The Duchess
) or movies that aspire to greatness and fall well short (Fernando Meirelles' absurd, under realized
Blindness
), has proven difficult to engage in or give a fuck about. Only Jonathan Demme's splendid
The Celebration
goes all New England multi-cult drama
Rachel Getting Married
has seemed like a fully rendered, emotionally meticulous and ultimately moving experience. Yet for every film like
Rachel Getting Married
, we inevitably get 3 or 4 loud, pretentious, cynical and all too pleasantly constructed experiences like
Body of Lies
, out today from perpetual Oscar baiters Ridley Scott, Russell Crowe and Leonardo DiCaprio. It is the most politically irresponsible take on the post 9/11 thriller to date and a walking advertisement for why the studios probably ought to get out of the business of making what they think are serious films about serious matters. But, I digress.
Among the more provocative films to unspool at the Film Society of Lincoln Center's signature event is Ari Folman's shocking
Waltz with Bashir
, a film that single-handedly restores my faith in the possibilities of the animated film. An animated documentary made with French, German and Israeli money, the film looks at Folman's attempt to come to terms with his and his Israeli comrades role in the Sabra and Shatila massacre during the 1982 Lebonese war. Retracing his steps through a wounded memory that has shuttered off the most awful of the things his seen to the realm of dreams, Folman visits several far-flung comrades and grills them on exactly what happened. Made lo-fi, with just eight supporting animators, it's a miraculous work, one that gets right into the dark heart of soldiers who are often asked to do unspeakable things and regarded as heroes for their mutually scarring actions. It took home 6 prizes at the Israeli Academy Awards and Sony Pictures Classics looks to be positioning it for a run at best animated film, which given the lightness of the works that usually find themselves in the running, would be a welcome change of pace. Among animated films, only Isao Takahata's 1988 World War II masterpiece
Grave of the Fireflies
has struck me with equal intelligence, vigor and melancholy.
Clint Eastwood is here with the Centerpiece film, the Angelina Jolie starrer
Changeling
. It drew indifferent notices in Cannes and seems to be even under more fire upon its Stateside premiere, but I found Eastwood's glossy telling of the "true" story of Christine Collins, whose son was kidnapped and killed in the infamous Wineville Chicken Murders, only to be replaced by another child for the benefiy of the LAPD's image, to be simultaneously calculated and engrossing. Sure we're all tired of seeing Angelina Jolie. Everywhere. But like the reception of her husband Brad Pitt's vehicle
The Assassination of Jesse James by the Coward Robert Ford
, the film from a year of great westerns that lives larger in the mind now than
There Will Be Blood
or
No Country for Old Men,
so much critical attention that ought to be paid to the film is instead being driven at the film's marketplace positioning as a manifestation of her/his corrupted star power. Sure the entire thing stinks of Oscar bait, its too long, it artificially reassures us of the power of justice and it doesn't live up to the other masterful works of Eastwood's late period, but the seventy-eight year old filmmaker newest work contains some genuinely terrific minuate (Manny Farber would have called it Termite Art), notably John Malkovich's performance, Tom Stern's moody camera work and the entire sequence in which Collins, after claiming the found child is not hers, is harassed and ultimately detained by the LAPD, who forced her into an illegal internment in a brutal women's mental institution.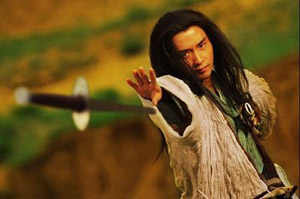 Wong Kar Wai is back at the NYFF with a re-dubbed, re-mastered version of his 1994 desert warrior epic
Ashes of Time,
perhaps his most sensuous and impenetrable film, now known as
Ashes of Time Redux
. I've long owned a copy of the original and have found it nearly impossible to watch – the colors are muddy, the sound choppy and the story nearly incomprehensible. Seeing it on the big screen in a wondrously restored print, ten minutes shorter than the original, the film is much more comprehensible and its visual beauty can now be fully appreciated, but I still see it a one of Wong's lesser films, another half-baked recapitulation of his quintessential themes of unrequited love and the inability to cope with nostalgia, this time in the genre of epic Asian period action, which he doesn't seem especially interested in anyway.. His characters are always gripping, in elegant but somewhat corny voice-overs, about what could have been. Same goes for this film – I'd rather watch
Hero
instead.
Steven Soderbergh's long awaited, four and a half hour
Che
, as
Karina Longworth pointed out at Spout
a few days ago, as been celebrated by older critics and lambasted by the younger, blog trolling set. Count me as an exception to that rule. Rigorous and inspired, shot with fluidity and unassuming grace on the Red camera, it does begin to feel a bit labored and claustrophobic in its final hour, but so be it – these are the exact emotions Che Guevara's fool-hearted attempt to bring a Marxist revolution to a peasant deep, Catholic country like Bolivia ought to inspire. Over the course of two separate films, one that runs from Castro and Guevara's introduction at a Mexico City dinner party in 56' to their taking of Havana, the other detailing Guevara's failed Bolivian ambitions and death, Soderbergh shows us the daily work of revolution and guerilla warfare, just how trenchant and demoralizing it frequently must be, while providing the all too uninventive genre of the biopic with some welcome fresh air by gilding the movie with small, human moments that have little to do with historical sweep or the movement of the plot, which most knowledgeable viewers will enter the theater with anyway. We get a sense of what it was like to spend time with Guevara and Castro, how both regular and extroidinary they and they're accomplishments were, and even if the movie skips over their brutal regime of Cuba's early years, their larger points about American malfeasance, made during the films depiction of Che's 1964 visit to the United Nations, especially in this era of illegal wars against sovereign nations, rings both poignant and prescient. This is an essential film.