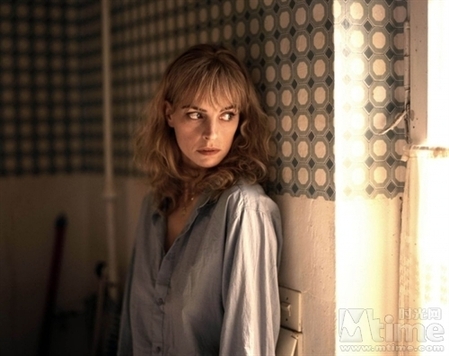 Now that Sundance has come to a close, many will turn their attention to the 38th International Film Festival Rotterdam, which shares a film or two with the Park City fests and has been in full swing since Wednesday night, when it opened with
Sopranos
actor and
Summer of Sam
scribe Michael Imperioli's lackluster directorial debut
The Hungry Ghosts
.
A fantastic array of sidebar programs awaits participants who've found themselves in this bombastic, modernist port city. Chief among them is CineMart, the festival's yearly international co-production market, which kicks off today. Known for its broad and inclusive vision of cinema, Rotterdam plays host to perhaps the most wide ranging variety of work among the major international film festivals, from experimental stalwarts like Ken Jacobs and Jonas Mekas, who are both here with new films, to cinema from far flung Asian, African and South American locales, not to mention new work from renown international auteurs.
The program has been simplified this year, with "Bright Future" (no, not the Kiyoshi Kurosawa film, although he is here with a picture this year, his remarkable Cannes and NYFF entry
Tokyo Sonata
) housing films by first and second time filmmakers, fourteen of whom compete for the VPRO Tiger Awards compeition. Veteran auteurs find themselves in the non-competitive "Spectrum" section (not to be confused with Sundance's "Spectrum" section, which houses films largely by newcomers and cultists). Meanwhile, retrospectives (Jerzy Skolimowski, Paolo Benvenuti, Peter Liechti), installations (including "Size Matters" for which new short films by Guy Maddin and Carlos Reygadas are being screened each night on a loop, projected five and six stories high on skyscrapers across Rotterdam), live preformance oriented film projects and non-narrative work is largely cordoned off in various sections under the "Singals" banner.
Although not especially world premiere heavy, the competition lineup, which is reserved for first and second time feature filmmakers, is drawn from film's not widely seen or anticipated. Its has also, at least thus far, been a relatively mundane selection.
Brimming with a seedy lower Manhattan and outer borough night life that feels somewhat dated, Imperioli's
The Hungry Ghosts
revolves around 36 hours in the lives of three troubled New Yorkers, all of whom are dealing with sexual, spiritual and/or psychological conundrums that are, we are left to suspect, largely of there own making. The acting is universally fine, especially Nick Sandow as Gus, the embattled recovering alcoholic with a penchant for kinky, vampiric sex who has lost his adopted eastern faith and is desperately searching for his ex-girlfriend Nadia (Aunjanue Ellis), an smart, damaged African-American drifter with a deep seated anger brimming just underneath the surface of her manufactured pleasantness, who is slow to recover from emotional and spiritual scars scars of her own. While individual scenes work within their own logic, too many fall flat, interrupting the film's already unintentionally jarring pace.
Imperioli's relatively flat HD aesthetic doesn't do the film any favor either. While making a film about people who really don't know what they want, it seems Imperioli fell victim to a similar problem. He never fully resolves it's principles backstories and motivations in a way that allows the story to have some dramatic weight or sustainable tension; nor does the former two strands tie together thematically with the narrative's third, involving a overweight, coke addicted late night shock jock (Steve Schirripa) who seems unable to resolve his own anger at his ex-wife (Sharon Angela) or build a lasting, healthy relationship with his teenage son, who is in store for an adventurous night himself.
Other selections in the competition haven't been much better. Ramtin Lafvafipour's
much raved about
Be Calm and Count to Seven
has a wonderful premise and a terrific opening but nonetheless runs out of gas before its first hour is up. While it takes us into the fascinating world of a remote Iranian fishing village that's principle economy seems to be the smuggling or people (out) and consumer goods (in), it's ultimately sunk by suneven pacing and a retread handheld DV aesthetic, although its main problem is that it withholds too much information about its characters for its largely tragic narrative, the demise of a child smuggler who's father has recently vanished while smuggling people "to the other side of the sea", to have the affect it would like to.
This lack of affect when compared to intent is also evident in Juliette Garcias'
Sois Sage
, a slow burn French film that almost becomes a thriller (for much of the first hour, the film's grammar makes third act violence seems all but inevitable) before pulling back, ultimately settling for something much less interesting and equally unpersuasive. In telling this lurid tale of a creepy, attractive young woman (Anais Demoustier) who finds herself delivering bread in a tucked away French hamlet while stalking a married classical piano teacher with whom she clearly has a past, the film successfully withholds key information, steadily building tension and desire for clarity, before exploding upon reaching its wilding implausible and unsatisfying ending. Full of pregnant pauses and creepy, Cronenberg like beats involving the sexual aspects of inanimate objects, the movie has some interesting filmmaking in it, but like
Be Calm and Count to Seven
, it never lives up to its promise and its twist is straight outta
Chinatown
.
More sophisticated pleasures can be found in the Spectrum section, which most resembles NYFF in its "best of the previous year in world cinema" vibe, (drawing heavily from Cannes, Venice and Toronto among other places) and some of the non-competition films within Bright Future. So far my three biggest discoveries have been Argentinian writer/director Alexis Dos Santos' terrific second feature
Unmade Beds
(more on that later in the week on
Hammer to Nail
),
After-Life
and
Nobody Knows
helmer Hirokazu Kore-eda's marvelously funny, Ozu inspired entry in the "lightly estranged family gets together amidst tragedy and loss" genre
Still Walking
and German Christian Petzold's
The Postman Always Rings Twice
remake/adaptation
Jerichow
.
That film, which stars Benno Furmann, Nina Hoss and Hilmi Sozer in a modern take on the James M. Cain novel, outdoes both the Luchino Visconti and Bob Rafelson versions. Brimming with a low simmering noiry atmosphere of impending betrayal,
Jerichow
concerns a Afghan war veteran (Furmann, who has a bit of Brando in him, but with more restraint) who begins driving for a drunken Turkish business man (Sozer, excellent) who's insecurities are driven by his most cherished posession, a beautiful blonde wife (Hoss) whom he's all too afraid to lose.
Petzold advances the story at a measured pace for such a parochial drama, but he expertly divides our allegiances among each of the characters, only to turn around and firmly test the limits of his audiences capacity for empathy by baring their faults so plainly, yet subtly. His simple, naturalistic sound design complements an understated visual elegance, each of his characters finding themselves time and time again in wide, airy compositions whose emptiness and beauty stands in stark contrast to the economic and social/sexual despair of their circumstances, trapped in a chamber drama that marches toward tragedy without the glamour and chiaroscuro one associates with the genre. By changing the ending from previous versions and making the marked business man a Turk with a smokin' Aryan wife in an east German waisthole, Petzold also introduces a level of racial complexity to an already absorbing tale. Here's hoping
Jerichow
eventually finds its way State side.